Introduction
User Interface Design and User Experience Design, commonly referred to as UI/UX Design, is a booming and thriving field at the moment. With technology growing and evolving every day, UX Design is becoming a coveted and an in-demand skill many companies look for in candidates.

Essentials to Begin a Career in UX Design
It is not really difficult to begin a career in UI/UX Design. We have put together a beginners kit which will help you to kickstart your career in UI/UX Design. The kit consists of some of the basic terminology, processes, tools, tutorials, and books related to UI/UX design that can help you begin your learning.
What are UX and UI?
Before getting into the serious stuff, let's clear up the main thing. The definition of UI and UX Design. These two terms always lead to confusion among people and is sometimes used interchangeably. But they are two different terms and each cannot be done without the other. So for starters, let's define what these two are.
UI Design
UI or User Interface Design is complete look and feel of a product or idea that users will interact with. It has to do with the visual style and the presentation of the complete product. It can be any physical or digital device or system with which a user communicates. A layer with which user will be able to interact with a system can be termed as UI.
UX Design
UX or User Experience Design is the process used to determine what the experience will be like when a user interacts with your product. Simply speaking, we define what the experience will be. User Experience Design involves a lot of processes and disciplines which helps in designing and developing systems which give high satisfaction to users. UX is not just confined to software where you end up giving good experience solutions to software products, it can be applied across anything with which a user interacts with and gets satisfied with the output. Both of them fall into the holistic User-Centered Design process which details out various disciplines and practices.
Both UI and UX are complementary, meaning, one cannot live without the other. If you define a really bad UX for the product that has a good UI, you are in for a lot of problems. Users may not understand how to interact with your product even though you have really beautiful UI. Bad UI and good UX also doesn't well. People may not want to go through your product if it has been designed in a not so great manner.
Now that you understand what UI and UX are, let's get into the really good stuff, yes? Things are going to get really exciting now, so hang in there and read on.
What do you get out of these tools and resources?


Definitions and Terminology
Well.. we have already cleared up what UI and UX is, but there are quite a few terms needed for you to understand. Below is a list of sites that you can go through to further your understanding of the terms that are used.
01.
Usability First
Usabilityfirst is one of the best sites to begin your understanding of the terminology in the field. This site covers:
A study of UCD (User-Centered Design), Usability and other key terms.

A comprehensive study of the complete process of UI/UX Design.

A complete understanding of usability and it's importance in the study for UI/UX design.
02. Uxdesign.cc
Everything about UX design in one place. For a beginner, this is a great starting place to get into the understanding of UX. You have unlimited resources and articles, podcasts and examples to check out from and study.
All kinds of articles for a beginner in UX to an expert in the field.

Articles ranging from tools used to the future of UX and the latest trends in the field of UX design.

Expert talks, podcasts, and links to books and tutorials
03. Nielsen Norman Group
This is one of the leading sites for understanding user research, usability and design. This site has a bunch of articles that could be useful for the beginner getting into the field of UI/UX design.
Different types of articles on a variety of topics ranging from design thinking, user research, usability, testing and loads more.

Articles from some of the best authors in the field of UX Design.
04.

Interaction Design Association
This is a community for UX/Interaction Designers. You can join the community, meet other designers, take part in discussions and forums and get access to many articles and resources.
Community-based wherein you can join in, take part in meetups and discussions, ask questions in forums.

Get access to articles on various topics from courses to tools and techniques.
0

5.

Smashing Magazine
Smashing magazine consists of a lot of articles from all fields of design, with its primary focus being web design and UI/UX Design. They have a great repository of tutorials, news, articles, books, and resources. Their articles are useful for a beginner into the field and professional who wants to hone their skills further.
Hundreds of articles in all fields of design.

Access to loads of articles, beginner tutorials, and resources

Special emphasis on Web and UI/UX design
0

6. Usability.gov
This is a great site for a beginner to understand Usability and it's importance in UX Design. It also consists of articles for understanding the importance of content, project management, and visual design.
Understand the need and importance of Usability in UX Design.

Articles on each stage of the design process and tools used.

A guide to understanding usability evaluation and testing.
UX Process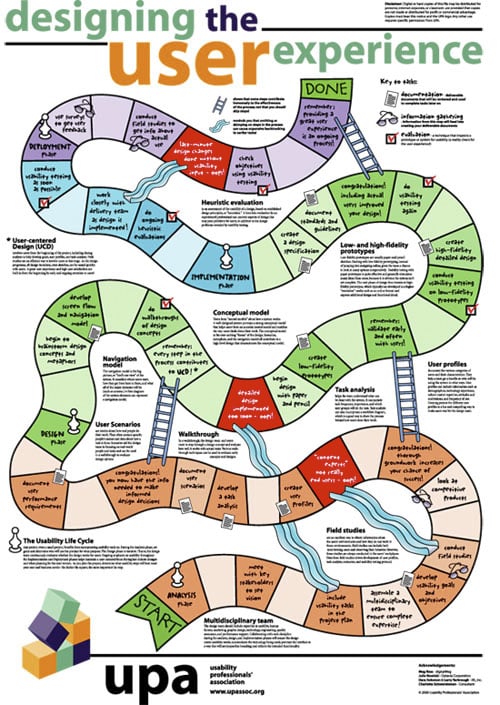 (for larger image or pdf download, click here)
Anything and everything you do in your daily activities go through a process, right? Well yes, UI/UX Design has a process too. From the start to the end, it involves quite a few stages which involve a lot of researching, brainstorming, sketching, designing, iteration and discussions. The above graphic aptly describes the complete process of a UX project, from start to finish.
UX Tools
Some of the most important and widely used UX Design and Prototyping Tools are, Axure RP

Balsamiq, JustInMind, Keynotopia, MockFlow, Mockingbird, Mock plus, UXpin, Invision, and Moqups. More options, especially when it comes to UI and Visual design are Adobe Photoshop and Sketch and the recently launched Adobe Experience Design (Adobe XD).
UX Books and References

There are many books and references which you can refer to when beginning to learn UX and UI design. You may be overwhelmed at the number of references available, but don't worry, we have sorted out some of the most useful ones out of them. These books are mighty useful for a beginner getting into the field.
01. UX Pin Free E-books
UXPin has one of the biggest collection of ebooks online. They have books on every concept of UI and UX design, for a beginner and an expert. Go through the entire collection and save these books for future references. We have curated some of the most useful books in each category for quick reference.
02.
Don't Make Me Think by Steve Krug
This book is a very important addition to any designer's library. This book explains simple concepts in a clear, fun and illustrative manner, which makes it very easy to read and understand. The author uses some real-life examples to explain about usability and many design concepts which makes it a book that you will keep going back to. This book is a great read for a beginner getting into the field of design.
03.
100 Things Every Designer Needs to Know About People by Susan Weinschenk
To become a good designer, one needs to understand the user who will be using your product. And users turn out to be, well, people. This book provides a clear understanding of the behaviors of a user. Combining science with extensive research and some real-life examples, it helps us understand the mind of the user and how it affects our decisions when it comes to designing.
04.
Smashing UX Design: Foundations for Designing Online User Experiences by Jesmond Allen and James Chudley
This book is considered a bible for UX Designers. It is a great book for beginners getting into the field of UX Design as it focuses on the UX Design process from the beginning to the end, the tools used, introductions to wireframing and prototyping and more. The book has many real-life examples, deconstructed so that it makes it easier for a beginner to understand the approach taken to develop some world class websites and applications.
05.

Mobile App Design Guidelines - IOS, Android and Windows
When it comes to designing apps for mobiles, each system has a set of guidelines one needs to follow. IOS has its own set of rules to designing their icons, apps and the entire look and feel of their apps. Same goes with Android, where they have their own set of rules termed as Material Design. Windows users/designers may be really few, but it is still important to know how designing for their system works.

There is a huge load of resources and books when it comes to reading about UI/UX Design. We have combined a few of the ones we think are the best when it comes to beginning in the field of UX Design.
Beginning a career into UI/UX Design can be quite overwhelming. We understand that. But that shouldn't be a deterrent for you, the beginner. The Internet has loads and loads of reading material, tutorials, and lessons which can help you get started into the field. Study, practice, learning is all that is needed. It is not a scary field at all. All you need is dedication and the desire to keep learning. Nobody became a pro in the field overnight, right? Everyone had to study, learn and push themselves, to wherever they are the moment.
When it comes to beginning a career in UX Design it is always upto you; how much you are eager to learn, to push yourself toward the goal. The more enthusiastic you are too challenging yourself, the better you learn. That is a general principle to beginning something new; not just UX Design, but in general. Practice, motivation and the willingness to succeed, makes you perfect after all.