---
01. FontLab Studio
FontLab Studio is a highly popular and industry standard font editor tool. With its vast list features, many professional type foundries, typographers and graphic design studios swear by FontLab Studio for their designing type and creating/modifying fonts.
Supported Platforms
Windows and Mac
Pricing
Free Demo Available for Windows and Mac.
Total Package costs $649 or $279/year.
Educational Discount of $129/year
Benefits :
Ability to create extensive font families with varying widths and thickness (Light, Regular, Semibold, Bold)

Generates: OpenType CFF (OTF), OpenType TT / TrueType (TTF), PostScript Type 1 (PFB/PFA/MM), FontLab VFB. Mac version also generates suitcase-based Mac Type 1 and Mac TrueType

Imports OpenType CFF (OTF), OpenType TT / TrueType (TTF), PostScript Type 1 (PFB/PFA/MM), FontLab VFB, Fontographer FOG, and legacy Mac fonts

Import Bitmaps and EPS drawings from Illustrator

Allows user to test the font for Spacing and Kerning issues

FontLab Studio supports encoding of any Unicode character; which means it allows to design a font in any language, and create all the glyphs needed for that font.
Features :
Comfortable Bezier Creation

Import Bitmap or Vectors, Trace and Clean up

Better curves with FontAudit

In-context Design- Shape Groups and neighbors

Class-based Metrics and Kerning

No Language Barriers with Unicode

Advanced Typography with OpenType layout

TrueType & PostScript Hinting
---
02. Glyphs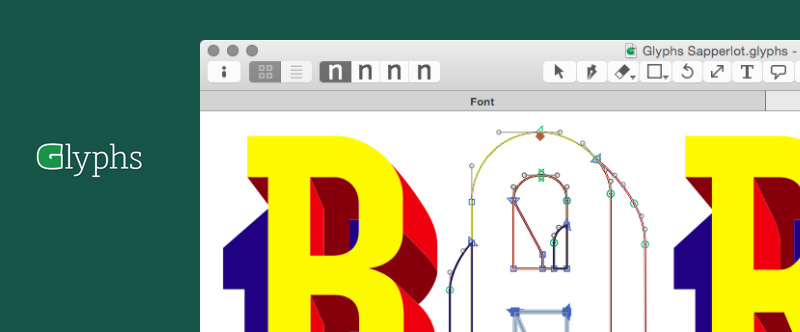 Glyphs is another top standard font editor tool. It can be used by both beginners and professionals of the type industry. It has a wide range of exciting features which makes it an up and coming type design tool in the design field. It also has a Mini version; a slightly toned down version of the main Glyphs app. It has a few limitations when compared to the main app, but is still nonetheless a cool tool to use.
Supported Platforms
Mac Only
Pricing
- Glyphs & Glyphs Mini are available for download for a 30 day trial period.
- Glyphs Full Licence: $265.62
- Glyphs Mini Licence: $47.82
Benefits:
Export: OTF, TTF, UFO, Web fonts (EOT, WOFF, WOFF2), Color fonts, Metrics

Import: OTF, TTF, UFO, and PS Type 1

Extensive Non-Latin support, including complex scripts like Arabic and Devanagari

Ability to color your fonts rather than the same old black and white

Availability of a large variety of plugins and scripts to improve workflows
Features :
Smart Vector Tools for Type

Covers All Languages

Create Colorful Font

Automatic OpenType features

Full Control Batch Processing

Built-in Autohinter

Third Party Plugins to Improve Functionality
---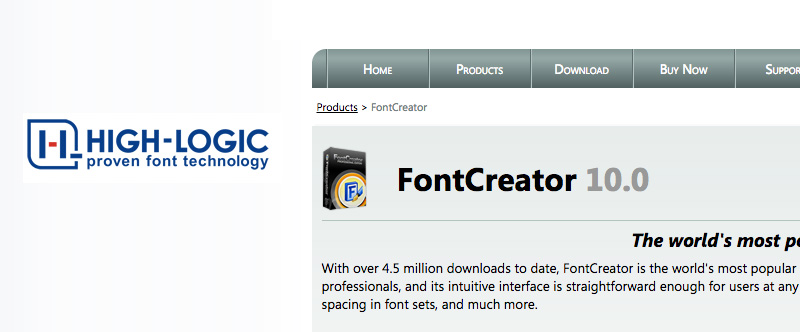 Font Creator is one of the many popular font editor tools with over 4.5 million downloads. A host of advanced features makes it popular amongst professional users, while its intuitive interface makes it easy for anyone of any level of expertise to use.
Supported Platforms
Windows Only
Pricing
- Free trial available
- License: Font Creator Home Edition: $79.00
- Font Creator Standard Edition: $149.00
- Font Creator Professional Edition: $199.00
Benefits:
FontCreator supports Open Type, True Type and Web Open Font Format (WOFF) fonts which can be used on Windows, Mac OS X, Linux, and in all modern web browsers.

Import high-quality SVG from any vector editing software and Bitmap images

FontCreator is the first font editor to support the new scalable color fonts extension. This new feature allows you to create multi-colored glyphs for systems that support it while maintaining backward compatibility for systems that do not.

Manually adjust Kerning to your font; Autokerning feature to automatically kern your fonts.

Ability to test your fonts on various applications during development.
Features :
Font Overview with Categories

Work with OpenType, TrueType, and Web Fonts

Design High-Quality Fonts

Import SVG and Bitmap images

Scalable Color Fonts

Easy Access to Common Glyph Properties

OpenType Layout Features

Test Your Fonts

Optical Metrics and Kerning
---
04. Bird Font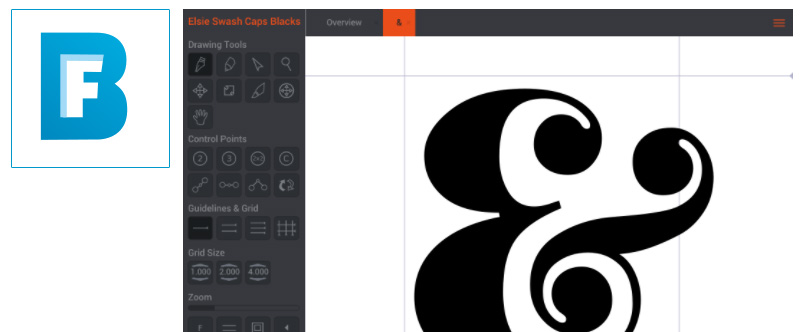 Bird Font is an up and coming font editor. It is a project developed by Johann Mattsson. It is a funded project and is constantly getting many upgrades. It is available as Freeware and as a commercial version.
Supported Platforms
Windows, Mac, Linux, & BSD
Saving Formats
TTF, EOT and SVG Fonts
- Free
- $5 (or more) for the Commercial version
Features :
OpenType features

Export TTF, EOT, and SVG fonts

Import SVG and Vectors

Convert Raster Images to Vector Fonts

Import Background Images

Create Stylistic Alternates, Swashes and more
---
05. Type 3.2 & Type Light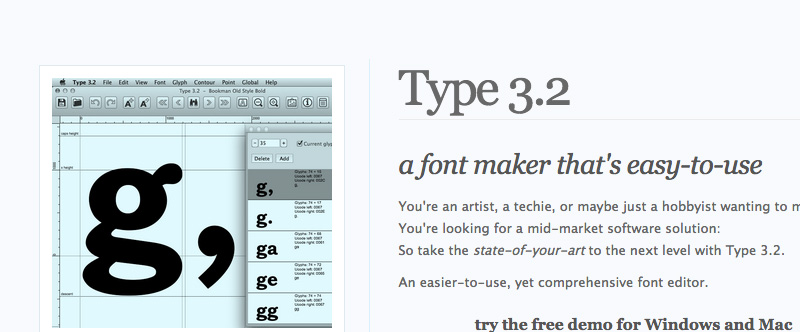 Type 3.2 has been around since 2006 and because of it is pricing, it is preferred by many small offices and home studios. The many new features in the latest updates have made it really easy to create cohesive and beautiful series of fonts. Type Light is a lighter version of Type 3.2.
Supported Platforms
Windows & Mac
Pricing
- Free demo available for Download
- License: $55
- Type Light, a lighter version of Type 3.2 is available for Free for personal use
- If for business purposes, you need to purchase a Type 3.2 license
Benefits:
Import: TTF, OTF

Export: OTF, TTF

Ability to import vector graphics from Illustrator/Inkscape

Ability to adjust Kerning visually using with "Grab & Drag" option

Ability to Auto-create all Latin accented characters.
Features :
Interactive Auto Trace

Composite Glyph Wizard

Glyph and Full Font Preview

OpenType Features

Import Vector Graphics

Adjust Kerning Pairs
---
Other Software Which You May Like :
http://old.fontlab.com/font-editor/fontographer/
https://fontforge.github.io/en-US/
All the software mentioned above is the best in the market for creating and editing fonts. However, in the case you want to check out some inspiration to create your next font, you can view stores like MyFonts and fonts.com to view and buy the fonts. You can get
great discounts
on MyFonts and
special offers
at fonts.com.