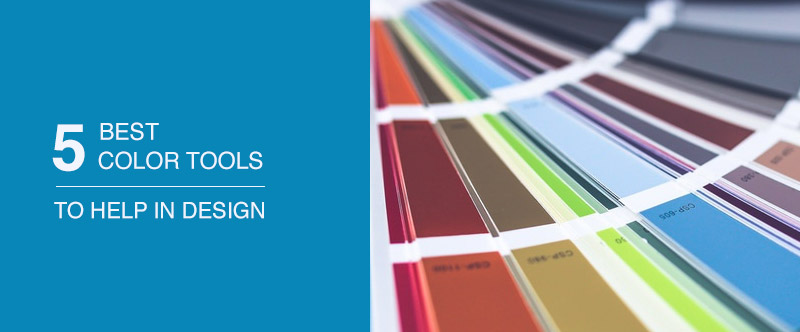 Choosing colors for your design project can be a daunting task. What color theme to select, what color palette to choose, is this the right color choice for this project, Will the client like this color scheme?.... These are the many questions that come in every designer's mind. And we bet it comes into your mind too. Always.
Well, Don't worry anymore! Because we have compiled a list of the best tools that you can use to choose colors for your next design project. Each tool has its own unique feature which makes it useful for you to choose colors and palettes. So the next time you have that scare of choosing colors for your project, select one of these tools and banish those color choosing worries!
---
Allows you to choose colors based on the simple rule of color theory; those being complementary, secondary, analogous colors and more.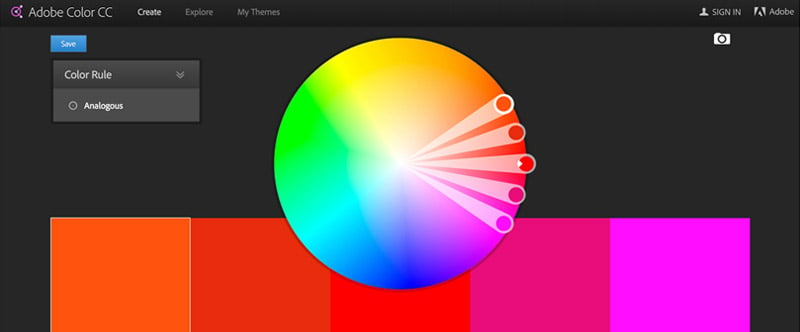 More about Kuler
A handy color wheel with which you can play around and make your own color palette.
If you have an Adobe Creative Cloud Account, you can download and save the color palette to your library.
You can also upload an image and Adobe Color will pick out the color palette from the image provided.
You can edit the HEX and RGB values to get the color you need. You can also adjust the properties of each color to get various hues, tones, and shades of the colors.

---
COLOURlovers is one of the biggest color communities on the web. Not only do they have an extensive color palette collection, but they also have patterns, custom shapes and articles on current and past color trends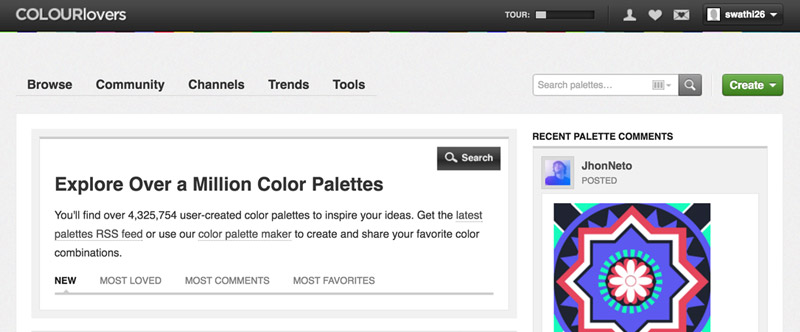 More about COLOURlovers
You can sign up with the site and save your palettes, individual colors, patterns and more. You can also create your own palettes and save them and share with the community.
You can do a wide search for a variety of color palettes. For example, you can enter "Retro" as a search term and you will get listings of retro palettes.
You can download your palette in many different forms (HTML, ACO (Photoshop file), ZIP file, PNG and more) to use for your projects.

---
Coolors.co is a very cool, helpful web app for selecting a palette for your next project. All you need to do is sign up with the app and you are good to go.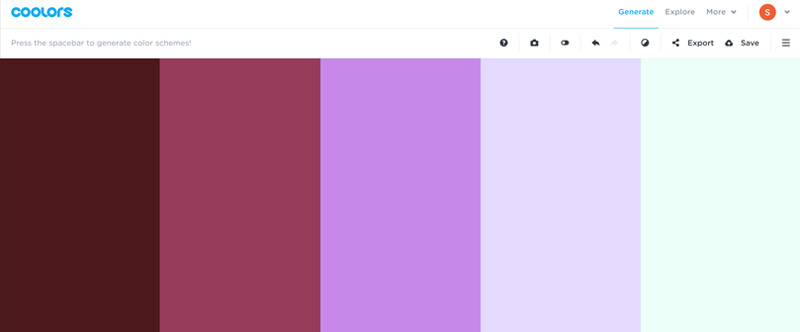 More about Colors
Upon launching and signing up, a screen launches with a color palette. Tap the space bar to check out the many color palettes. Each color comes with the name and hex code. You can copy the hex code to use that color in your design. You can also modify the HEX code to the color code you require.
On hovering over each color bar, you can either drag the color to another position on the palette, manipulate the hue, saturation, brightness, RGB, CMYK, and the Pantone and Copic values. If you are sure that you want that particular color in the palette, you can lock the color. When you lock the color, the color remains and the remaining colors in the palette keep changing
You can export your color palette in the form of a pdf, svg, png, aco (Photoshop file) and many other formats. 
You can even save your color palette so that you can access it any time.
You also have the option of selecting colors from an image. After uploading an image, you have the option to choose each individual color or asking the app to auto-select the colors from the image.
You can also explore the many palette creations that are shared by the users on the app. You can also share palettes that you create by making your profile Public in your account settings.

---
Colordot is a playful color palette app. All you need to do to scroll left and right, up and down on your trackpad or mouse to select the color. More about Colordot
You need to move left to right on your trackpad/mouse to select a hue, move up and down for the lightness and scroll down for the saturation
Once you like a particular color, click on it and it gets saved as a color bar on the left. You can continue with the same actions on the right. You can keep selecting colors to form your palette
Once the color is saved, it gives you a setting option where you can manipulate the RGB and HSL values of the colors. If you don't want any color in your selected palette, you can just delete it.
This web app is also available as an app for IPhones. You can create your own color palettes, select the colors by swiping, share your color palette and capture colors from a photograph and loads more.

---
This tool looks complicated once you view it, but don't be deceived by it. It is quite a nifty tool with a lot of features. Do take time to explore each option to see how useful this tool is.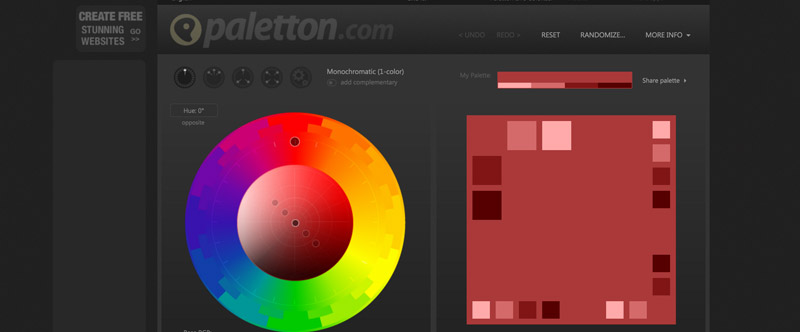 More about Paletton
You can select your color palette based on the various properties of colors in the color wheel. You can select from Monochromatic, Adjacent, Triad, Tetrad and Freestyle.
You can select the colors from the color wheel on the left pane. On the right pane, it shows you the colors you have chosen along with the various tones and shades of the colors.
You can download your palette in various ways. One way is the list of all the colors, the tones, and shades. These can be downloaded in HTML, CSS, XML, TXT file and more. This is to help you use the color in your code. Another is a swatch of all the colors in the form of a PNG, ACO File, and a GPL file (for GIMP).
A very cool feature of this tool is the Vision Simulation. It allows you to view your palette in various vision simulation forms. The coolest of all these simulations is the one for Colorblindness, where you can see how the colors appear for people with this disability; which can very useful when you have to design applications for colorblind people.